About Givers Embassy
About Us: Givers Embassy - Redefining the Church Experience
Welcome to Givers Embassy, the first no tithe, no offering church in Nigeria. We are a unique and forward-thinking spiritual community committed to creating an environment of love, compassion, and empowerment. At Givers Embassy, we believe in redefining the traditional concept of church, embracing a holistic approach that addresses the spiritual, emotional, and practical needs of our congregation. Here, the Holy Spirit teaches us ALL things including what to do with our finances not any Pastor or man of the flesh.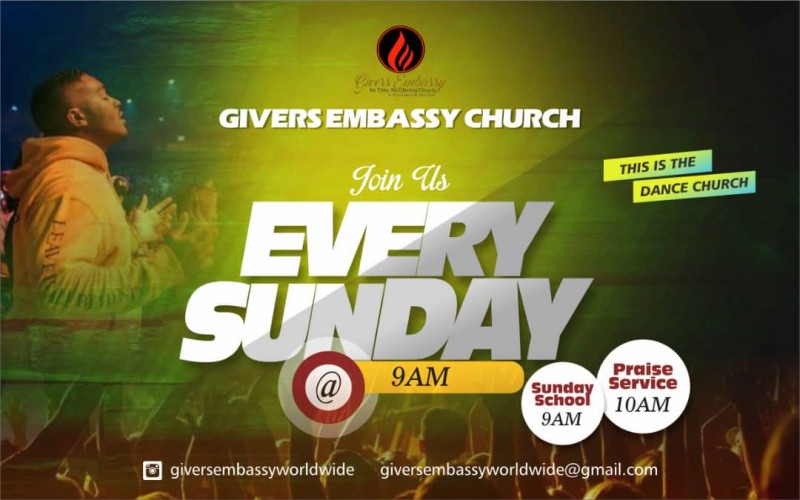 Our Vision
Our vision is simple yet powerful: to be a beacon of light and hope in the lives of individuals and communities. We strive to foster an atmosphere where people can experience spiritual growth, find purpose, and unlock their full potential. Our ultimate goal is to make a positive impact on society by empowering individuals to live meaningful, fulfilled lives.

A Different Approach
Givers Embassy stands out from conventional churches by reimagining the way we worship and engage with our members. We have consciously moved away from the traditional practice of tithing and offerings, believing that true worship goes beyond financial contributions. Instead, we emphasize the importance of giving back to society, sharing love, compassion, and resources with those in need.

Empowering Lives
At Givers Embassy, we are passionate about empowering individuals to make a difference in their own lives and the lives of others. We offer a wide range of programs, initiatives, and schemes designed to provide practical support and opportunities for personal and professional growth. Our aim is to equip our congregation with the tools and knowledge they need to succeed in all areas of life.

The Employment Academy
One such initiative that we are immensely proud of is the Employment Academy. The Employment Academy is a groundbreaking scheme designed to address the challenges faced by unemployed graduates in Nigeria. Through financial support, job placement assistance, and training in business opportunities, we empower graduates to unlock their potential and build successful careers.

Blessed Fruit Foundation
Founded by Prof. Sola Fosudo some 15years ago, Blessed Fruit Foundation takes care of the welfare of Widows and Orphans in society, the Givers Embassy makes this calling an important part of our worship, giving Widows and Orphans an equal sense of belonging in our the world.

A Welcoming Community
Givers Embassy is more than just a church; it is a warm and welcoming community. We believe in creating an inclusive space where people from all walks of life can come together, connect, and support one another. Our vibrant congregation is made up of individuals who share a common desire for spiritual growth, personal development, and making a positive impact in the world.

Join Us on Our Journey
Whether you are seeking spiritual guidance, personal growth, or a community that embraces your values, Givers Embassy welcomes you with open arms. We invite you to join us on our journey of love, compassion, and empowerment.

Experience the difference of a no tithe, no offering church that focuses on giving back to society and nurturing the potential within each individual. Attend our uplifting and inspiring services, participate in our various programs and initiatives, and become part of a community dedicated to transforming lives.

For more information about Givers Embassy, our initiatives, and upcoming events, please visit our website at www.giversembassy.com or send us a mail via info@giversembassy.com. Connect with us on social media to stay updated on all the latest news, teachings, and community outreach projects.

Together, let us redefine the church experience and create a world where love, compassion, and empowerment are at the forefront of our spiritual journey.
Join us this Sunday 9am at NUT PAVILION, ALAUSA, IKEJA, LAGOS, NIGERIA for an unforgettable, life-changing and highly rewarding experience. We look forward to welcoming you.

Love from your humble servant
Amb. Dr. Edward Olutoke